Americana Journeys - Genealogy
ANTWERP – RED STAR LINE
" Do You Know This Girl" Win a Trip to Antwerp Contest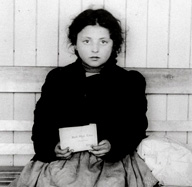 Two and a half million European immigrants sailed from Antwerp in Flanders Belgium in the mid 1800's to the start of the First World War, arriving in North America. The Red Star Line which has a long heritage of carrying emigrants from the European Continent to America is offering a contest to win a trip to Belgium and a visit to the Red Star Line Museum which opens in 2013, plus a $1000 shopping spree. The campaign called "Do You Know This Girl" starts with a photo of a young girl who steamed from Antwerp in 1905 and arrived at Ellis Island. Contests participants sign up and follow the clues to the girl's identity, with the winner chosen from the first who uncover who she is. She put on your genealogy sleuth deerstalker caps and start researching.
Famous designer Diane Von Furstenberg is serving as the "Godmother" of the project, launching the campaign surrounded by paintings of fellow Belgian, surrealist artist Rene Magritte (see Magritte Museum Brussels) and drawings of her famous fashion creations. She was join by Philip Heylen, the Vice-Mayor of Antwerp, the city to host the new museum of the Red Star shipping line. A lifesize cut-out photograph of the girl to be identified will be making appearances around Antwerp and on Ellis Island to promote the contest. Though, actually just to make matters a bit confusing the girl herself came through St. John's Canada, as did some of my own ancestors, rather than Ellis Island. So maybe I should take a closer look.

The photo identifies the girl only as Young Galacian immigrant holding an evelpe of the Red Star Line, Saint John, NB, May 1905. The source is the archives of the Canadia Employment and Immigration Board. The enter the contest and get the clues you need to follow the entries at the red Star Line Museum Blog.
These articles are copyrighted and the sole property of Americana Journeys and WLEV, LLC. and may not be copied or reprinted without permission.